UPCOMING EVENTS
BEST SUMMER READING EVER
BLOG TOUR
This is SO exciting - for authors and, especially readers. Starting next week (on the 3rd) I'll be featuring the Best Summer Reading EVER!

It'll include:
Virtual scavenger hunts, prizes and an introduction to some fabulous authors and their books …

Maybe you are about to discover the read of a lifetime...

Stay Tuned and discover...
Ann Tracy Marr -
Susan Roebuck - http://lauracea.blogspot.com
Christine London - http://christinelondon.blogspot.com
Sharon Poppen - http://poppensthoughtsonwritingandstuff.blogspot.com
Regan Taylor - http://regantaylorsworld.blogspot.com
Amy Romaine - Suspense for the Romantic Heart
Corinne Davies - www.daviesromance.blogspot.com
Regina Andrews - http://reginaandrews.wordpress.com
Lynn Hones - www.lynnhones.com/Blog
We've put together what we think are some fun prizes – at least they'll add to your summer reading. To enter into each week's give away leave a comment on each of our blogs. (You can find the links at http://regantaylor.com/contests.htm). Each Saturday Mel, aka the Delicious Meloicious will pick a winner. (He loves picking the best piece of paper out of the hat).

June 3rd Christine London -- ARC (Advance Review Copy) of Lisa Jackson's Aug 1, 2012 release "You Don't Want To Know" AND PDF of Christine's When We Were Amazing

June 10th Sue Roebuck PDF of her book Perfect Score and PDF of her book Hewhay Hall

June 17 Regan Taylor PDF of her book With All Dispatch, book 2 of the Treasures Antique Series

June 24th Regina Andrews PDF of her Sterling Lakes Book One: Light of the Heart

July 1st Amy Romaine – Surprise gift!

July 8th Corinne Davies-- PDF copy of her Caress of Fur

July 15th Lynn Hones--Beach Glass Necklace

July 22nd Ann Tracy Marr-- A pdf of Round Table Magician, the first book in Ann
Tracy Marr's Regency paranormal series.

July 29th Sharon Poppen -- My prize will be either a print or ebook copy of my novel 'Abby-Finding More than Gold'
And our grand prize to be announced shortly.
* * * * * * * * *
* * * * * * * * *
GREAT CONTEST OVER AT
eXtasy Books and DEVINE DESTINIES!
Check out our upcoming blog tour and great prizes!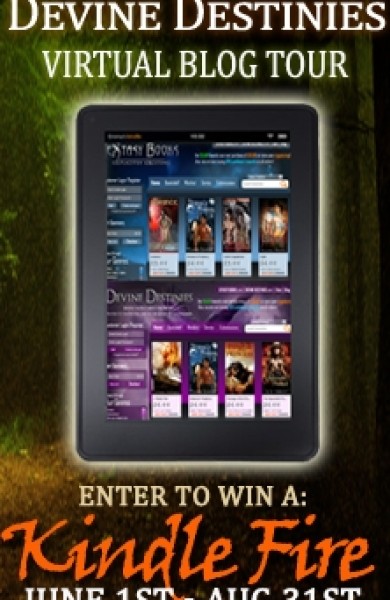 http://extasybooks.net/essenceofextasy/
For more details on our 10th anniversary!